At any given moment, there are 13 million people in the US who have cancer. And for each of those 13 million, there are countless family members who might be wondering – is this cancer part of a pattern? Could I be at risk?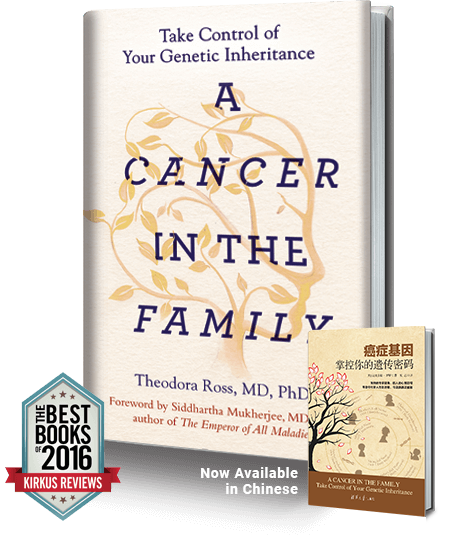 In In A CANCER IN THE FAMILY: Take Control of Your Genetic Inheritance (Avery-Penguin/Random House, February 2, 2016, Hardcover and eBook; January 31st, 2016 Paperback, Gildan Media 7, 2016, Audio; Thorndike Press 8, 2016, Large Print), oncologist Theodora Ross delivers a comprehensive guide for people facing a genetic predisposition for cancer. Based on her belief that knowing is better than not knowing, and that clarity is better than confusion, Ross shows there are options for cancer prevention and risk management that put you in control, not the cancer.
By the time she graduated from the medical scientist M.D. and Ph.D. training program at Washington University School of Medicine in St. Louis, Ross needed both hands to count the family members who had developed cancer – a tally which included her mother, father, aunt, uncle, and multiple siblings. When Ross herself was diagnosed with melanoma, despite her dark complexion, she began to believe her family's history of cancer was likely more than just an unlucky coincidence.
Invigorated by the desire to take control of her health and future, Ross made it a mission to discover the roots of her family's genetic cancer history, and to teach others how to do the same. It wasn't easy – in trying to map out her family's cancer history, Ross found that there were many information holes in her family tree, thanks to the pervasive culture of cancer secrecy and cancer shame that dominated into the 21st century.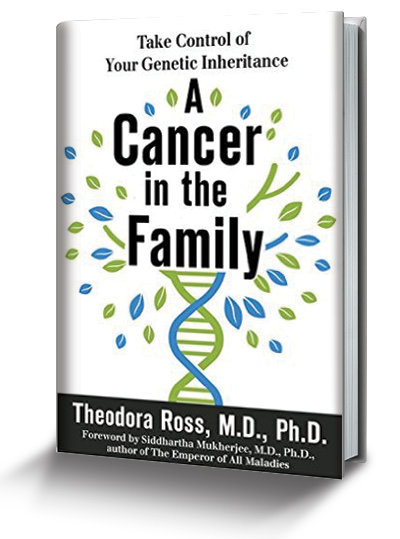 This taboo against speaking about cancer is shifting, thanks to Katie Couric's live –broadcasted colonoscopy and Angelina Jolie's multiple op-eds in The New York Times chronicling her preventative surgery decisions. In A CANCER IN THE FAMILY, Ross encourages readers to shed the veil of cancer secrecy themselves, and to delve into their family history in search of real answers. She also provides tips about how to fill in the missing holes in your own family's genetic history (such as asking your extended relatives about the missing family medical information at convivial group events like reunions and weddings).
A CANCER IN THE FAMILY is both pragmatic and anecdotal – Ross intersperses accounts of her own family's experience with discovering the truth about their genetic cancer inheritance with concise, straightforward tutorials in genetics, to help demystify the science behind cancer and gene mutations.
With an empathetic, yet experienced voice backed by evidence, Ross shows how arming yourself with a complete family cancer history can mean having one of the best health tools available in modern medicine at your disposal.
---
---
"Knowledge of oneself is paramount to long term health. Theodora Ross candidly and expertly shows us, through personal and inspiring stories, what that means when the knowledge demonstrates a genetic predisposition to cancer. An important and eye-opening book."
—David B. Agus, M.D., Professor of Medicine and Engineering, University of Southern California, and author of The End of Illness and The Lucky Years
"Dr. Ross' wonderful book has changed the way I practice.  It should be mandatory reading for every medical student and primary care provider."
–Marshall A.Wolf, M.D., Professor of Medicine, Harvard Medical School